Welcome to this new site! The goal of this website is to provide a comprehensive resource for scooterists by scooterists. I want it to be a site that has lots of info on all scooters from all brands so that scooterists don't have to find new websites and new forums every time they get a new make or model of scooter.
One of the areas I am most passionate about is 80's scooters from Japan, but I've always been broadening my tastes since my first introduction to scooters nearly five years ago. I would like this website to become a valuable resource for scooterists of all stripes. I currently only have Japanese scooter into on the main site (and even that is incomplete right now) but I would like to add info on Vespa, Kymco and other brands from Italy and Taiwan.
So a bit about me, I bought my first scooter, a new 2003 Honda Ruckus, in spring 2004. I quickly fell it love and amassed 15,000kms (9000 miles) on it each year for two years. It was long afterwards that I convinced my brother to join the scooter scene, as he picked up a 1983 Honda Mascot / Aero 80 (NH80). Here's our scooters in summer 2005:
Since I was riding it year round thru Canadian winters, my 2003 Ruckus was getting a bit rusty for the plans I had of modifying it into my dream scooter. Accordingly, I sold it in early 2006 and bought a new Ruckus. I rode this Ruckus for the summer and then hauled it inside to mod that winter. Below is the result: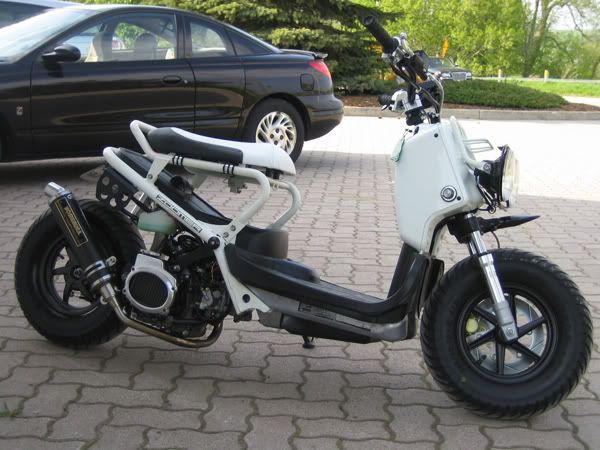 Sadly, this Ruckus was totalled just two weeks after completion when a car pulled out in front of me....good thing I was wearing a full face helmet! I used the insurance cheque to buy a new 2007 Honda CBR125R and a 1983 Yamaha Beluga 80 (Riva 80). The CBR was really just transportation....I didn't have soul like scooters do
I turned my modification efforts towards the Beluga and turned it from a 35mph slug into a 55mph fire breather. Here is the result: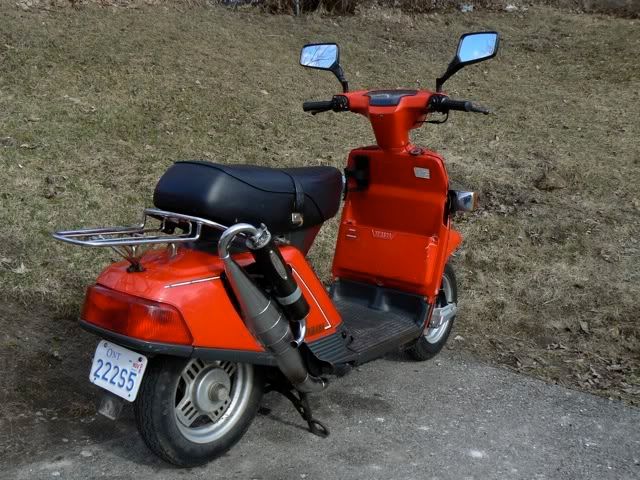 I had that scooter from summer, 2007 until fall 2008. I sold it because my wife and I had decided to move across the country to Whistler, BC and there was no room in the U-haul for the bikes. We sold both of our bikes and headed across the country.
It wasn't long after we arrived before we got another scooter. Just 3 weeks after arriving out west and still jobless, my wife and I couldn't resist the lure of a Vespa LX150 with $1500 off the price tag and no payments for 6 months. We picked this scooter up for my wife to use. She learned to ride the CBR125 last summer and next summer will be her first on a scooter. Since we are in Whistler, we have this scooter stored for the winter. Here it is with my wife: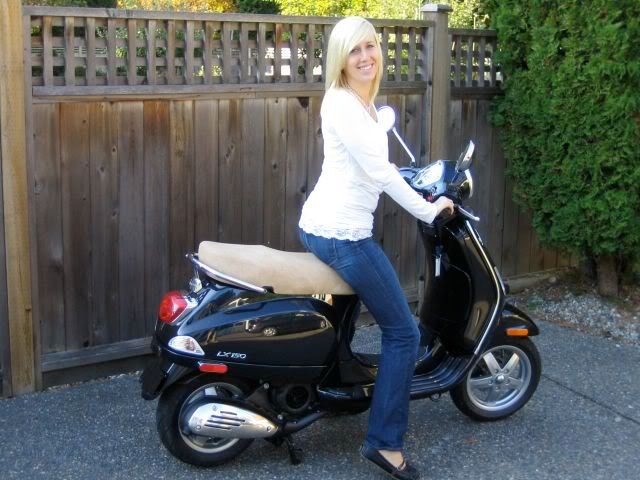 I'm currently scooter-less but I do have my wife's Vespa to tinker with. I'm currently dreaming about my next scooter which I plan to buy in the spring when the snow retreats. I'm currently debating this decision. My plan has been to buy a third Ruckus because I love that scoot but the new Yamaha BWS/Zuma 125cc also has my attention. I think they did a really nice job with this scooter and with the amount of miles I put on, the 55mph would be nice. My plans for my next scooter include a cross canada trip next June to attend the 2009 Mad Bastard Scooter Rally (madbastardrally.com)
Well that's me.....this site should start to get busy soon once Google adds it to their index of webpages. I would love it for everyone to pipe up and share their scooter story. Also, if you are knowledgeable about a scooter(s) then I would love to hear from you with info on how I can improve the scooter index page(s). Collaboratively, we can make this site a great resource.
Cheers,
Dan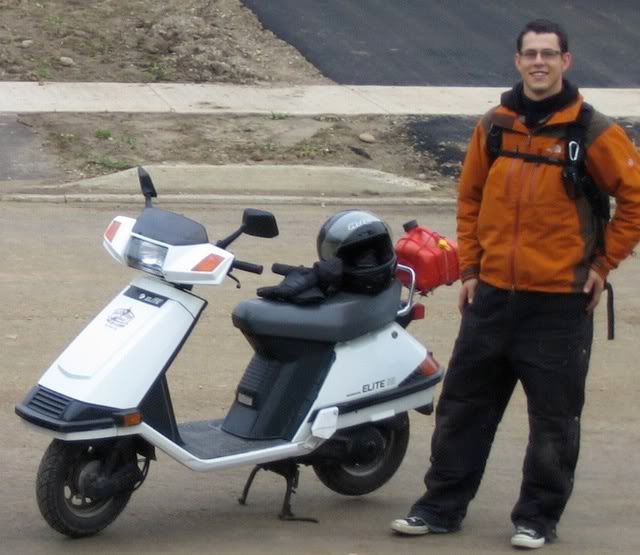 FYI, here's a list of scooters I've ridden:
- Piaggio MP3 250
- Vespa S
- Vespa LX150
- Aprilia SR50
- Honda Ruckus
- Honda Big Ruckus
- Honda Elite 80
- Honda Elite 150
- Honda Aero 80
- Yamaha Beluga / Riva 80